The Sticky Tofu recipe is definitely a keeper for the recipe books. I was a little apprehensive at first because it seemed like there was a lot to do to make it. But once you get all your ingredients lined up it was really quick to assemble and totally worth all the effort.
Start by pressing your Tofu block. I usually press Tofu for about 30 and drain the press a couple time during the process. One easy trick to cutting the Tofu block into nice cubes is to cut it in half. Then cut those pieces in half. Turn it all 45° and do it again. This will give you evenly cut cubes. Take those cubes and lightly powder them with some cornstarch. You can shake them in a bag gently or mix them in a bowl. I like putting them into a closed container and then just gently flipping it back and forth.
Get the rice going
Next you will want to start your rice. The type of rice is your choice but this recipe works well with a light jasmine rice. Follow the direction and get your rice cooking. And if you need directions grab our quick cooking guide to help you.
To assemble the sauce
To assemble the sauce, take all the ingredients and whisk them up in a skillet or sauce pan over low medium heat. I went ahead and added the bell peppers at the beginning and let them cook along with the sauce. Once the sauce begins to thicken a bit you can add the pineapple and then cook it down until it's thick and sticky.
There are multiple ways you can cook the Tofu for this recipe. I have found that when I baked Tofu it doesn't get as crispy and crunchy as I like so for this recipe, I used my air fryer and fried them up in two different batches. Make sure you spray the screen on the air fryer first so that the Tofu doesn't stick. I air fried each batch about 15 minutes and they came out perfect crunchy, crisp delicious.
If you bake the Tofu, I would put it on a parchment lined baking sheet and bake in a 375° oven for about 20 minutes. If you need to brown it up at the end you can put it under the broiler for just a second or two. I'm sure that would work as well. All ovens are different so you have to be the judge. If you have successfully baked Tofu in your oven before then this will be a breeze. So either way you are going for a crunchy hard crust.
Mastering the art of cooking Tofu can take a bit of practice. Remember that although they say it's a sponge and it'll take up all the flavors that you put it in. If you don't do it carefully, it still can taste like a sponge. So, make sure you're seasoning your Tofu using sauces that have a lot of flavors and using the proper cooking technique for the different types of Tofu.
There are many different types of Tofu which all require different cooking methods; some you press, some you don't, some you cook, some you don't. Just take your time and you will find that Tofu is a very versatile food choice for plant-based meals. If you've mastered the art of Tofu, be sure to try some of our other tofu recipes like
And remember to play with some of your favorite sauces and seasoning. Buffalo Bites, Ranch Nuggets, or a fancy Lime Ponzu Sauce. The sky is the limit!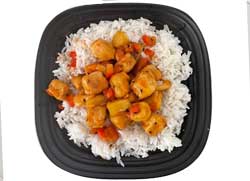 Sticky Tofu
A flavorful and simple recipe that delivers a burst of flavor. Pairs well with rice or noodles and brings a whole new dimension to your regular Tofu dishes. Goes great with vegetables and keeps well as a leftover
Print
Pin
Ingredients
1

block

Tofu

2

tbsp

cornstarch for dusting

2

tbsp

Aquafaba

⅓

cup

flour

½

tsp

baking powder

2

Bell Peppers

chopped small, red preferred

1

cup

Pineapple in pieces

fresh is best
Sweet and Sour Sauce
6

tbsp

vinegar, white

6

tbsp

sugar

1

tsp

salt

2

tbsp

tomato paste

2

tbsp

soy sauce

1/2

c

water

1

tsp

sesame seeds

roasted optional

2

tbsp

cornstarch
Instructions
Press Tofu and then cube into about 1" blocks. (cut in half and then cut in half again. Then turn and do it again.)

Put cornstarch in a bowl with a lid. Add the tofu and shake gently with the lid closed. Make sure all pieces have a light coating of cornstarch.

Mix flour with baking soda. Create dipping trays with the flour mixture and another with the aquafaba.

Dip tofu pieces in aquafaba and then into the flour mixture.

Layer on a baking sheet lined with parchment. Or if you are air frying you can put it into a lightly greased basket.

Bake at 375° for 15 to 20 minutes or until golden brown. If air frying, then fry at 425 for 15. Turn halfway either way to facilitate even browning.

Mix all sauce ingredients and peppers and saute in low profile saucepan on low/medium to thicken the sauce. Add pineapple and finish simmering until a nice thick and sticky consistency.

Gently stir in Tofu and serve over rice or noodles.
Your Notes
Nutrition
Serving:
1
cup
|
Carbohydrates:
45.9
g
|
Fat:
11
g
|
Saturated Fat:
1.7
g
|
Cholesterol:
14
mg
|
Sodium:
1055
mg
|
Fiber:
5
g
|
Sugar:
25.3
g
|
Calcium:
279
mg
Rate the recipe!
If you like this recipe, please leave a good rating!
This helps other readers.
Tried this recipe?
Share with your friends