This delicious beet, kale and carrot salad is a lovely summer salad that comes together quickly. You can add ingredients, take away ingredients, and make it your own pretty easily.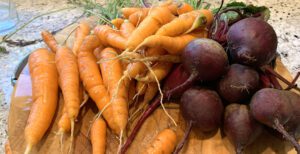 Straight out of the garden
If you have a garden like I do, you can grow the kale, carrots and beets and it doesn't get any fresher than that. Growing beets and carrots and kale for that matter is super easy.
Lemon Garlic Kale
My favorite thing to do with kale is to sauté it in lemon juice and garlic just until it wilts down. It is the best tasting kale dish I know. And honestly, I don't like raw kale too much. Maybe if it's cut really small and hidden in a salad somewhere.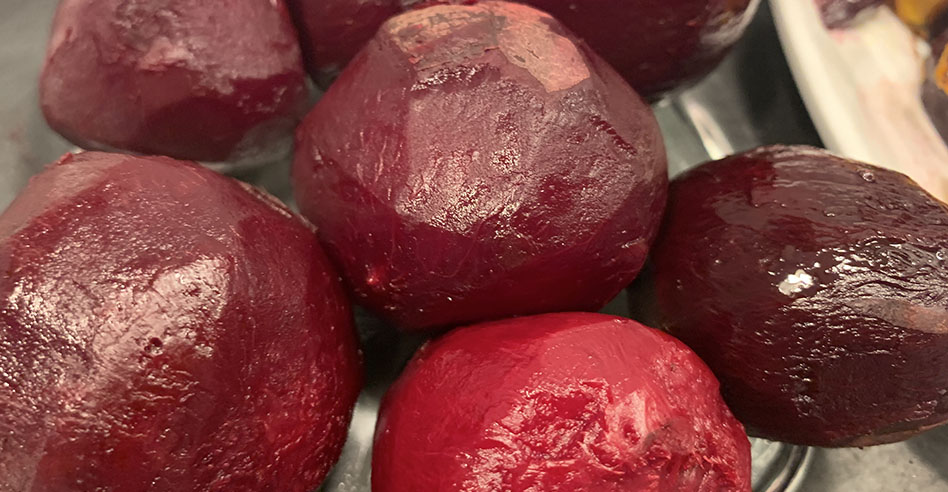 Roasted Beets
Roasting the beets is easy actually. It's not in the recipe is easy to do. After you have scrubbed them up and removed the stems and trimmed the ends off.  Wrap them in aluminum foil and put them in the oven at 400° for about 45 minutes. They time they take to cook depends on the size of the beets. If they're super small you can put a couple together. If they're large then just wrap them by themselves. Once they're tender, take them out and let them cool. Then it's really easy to remove the skins. You can rub them with a paper towel which I find pretty messy or grab a peeler and gently remove the skin. I usually roast my beets the day before because I'll roast a lot and have them for many dishes.

Putting it all together
Putting the salad together as easy once the kale is done. Slice the beets up into bite-size or small pieces or however you want to make it fancy. Grate the carrots on a box grater and get those ready to go. And then too assemble the salad, put it all together and gently toss just mix ingredients.
The kale with the lemon and garlic flavoring really allows add flavor and makes a salad dressing optional. I'm sure you could put on a light vinaigrette or something if you thought it needed it but definitely taste it first.
You can double this recipe, you can add more kale, you can add more beets or whatever. Make it your own and impress your friends. It's a beautiful and colorful salad to serve on a white plate or bowl. This beet, kale and carrot salad is a rainbow of colors. And the flavor of this beet, kale and carrot salad is just as big as the colors.
Enjoy the salad, I know I do!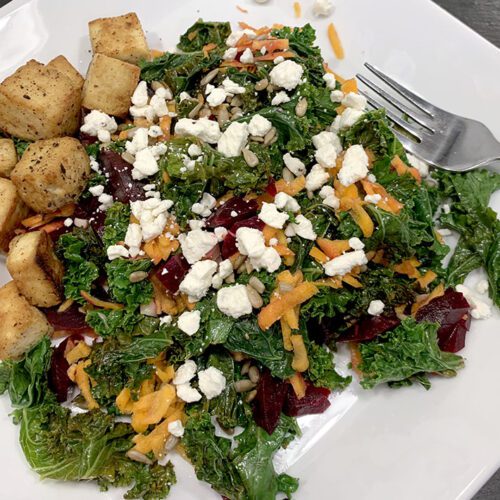 Ingredients
3

cups

fresh kale

2

tbsp

avocado or other high heat oil

2

cloves

garlic, minced

2

tbsp

lemon juice

3

beets, roasted and diced.

2

carrots, shredded

1

tbsp

sunflower seeds

2

tbsp

Feta, optional for garnish
Instructions
Lemon Garlic Kale
Clean kale by removing fibrous stem and breaking kale into large pieces.

Add 2 tbsp avocado oil or other high heat oil to fry pan

Add kale and cook until just starting to wilt

Add lemon juice and finish wilting down kale to your desired level. I think this salad tastes best if the kale is cooked down with a little crunch.
Assemble the salad
Cut beets into small pieces

Shred carrots. I used a box grater.

Put kale, beets, carrots, sunflower seeds into a large serving bowl and toss gently

Garnish with feta cheese if desired.
Your Notes
Nutrition
Serving:
1
g
|
Calories:
279
kcal
|
Carbohydrates:
31.7
g
|
Protein:
11.8
g
|
Fat:
13.6
g
|
Saturated Fat:
3.8
g
|
Cholesterol:
17
mg
|
Sodium:
377
mg
|
Potassium:
1146
mg
|
Fiber:
6.6
g
|
Sugar:
12.5
g
|
Calcium:
281
mg
|
Iron:
4
mg
Rate the recipe!
If you like this recipe, please leave a good rating!
This helps other readers.
Tried this recipe?
Share with your friends