Fresh Cauliflower makes the freshest bites.
Buffalo Cauliflower Bites are a must have at any party and they are super simple to prepare. They can be ready for the oven in as little as 10 minutes. These flavorful little bites are so spicy good they will be a huge hit with plant-based eaters and carnivores. When you make these yourself you can also control how spicy or decadent you make them. I always opt for my whole grain flour and a mix of fresh spices. Just doing that creates delicious cauliflower bites even before you put any sauce on.
Cutting the florets.
Start with a fresh head of cauliflower and trim carefully to remove the florets. I find it super easy to flip the cauliflower upside down and slowly trim away at the stem. This way you can remove the florets with little mess or clean up and you get beautiful florets. If your florets are too big you can easily put a little slice in the stem and break the floret in two. keeping the florets as consistent in sized as you can will allow them to cook evenly and give them a super yummy crisp crust.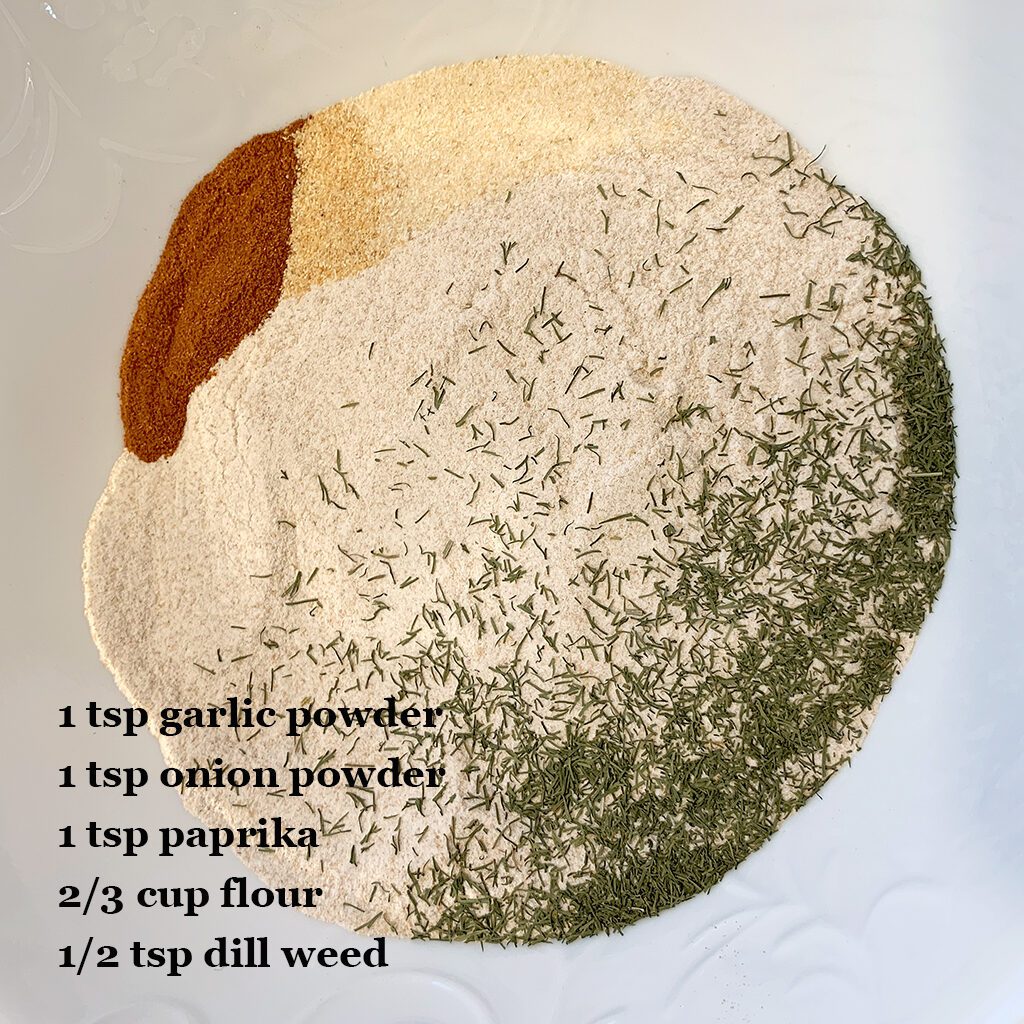 Spice it up!
It is time to add some flavor. Grab a fairly large bowl. One that might hold about two times as much florets as you have cut. You are going to use this bowl to mix it all up so having extra room for this can be beneficial.  I used tongs and a large  stainless steel bowl.  Take all the dry ingredients; flour, paprika, garlic powder, onion powder and dill weed and measure into the bowl. You can add any other flavorings you like tot he mix. If you like super spicy put in some red pepper flakes or for a more Mediterranean twist a little garam masala might be fun. They are your bites so make them how you like them.
Shake, rattle and stir.
Once you have all the dry in you will start to incorporate the water. The thickness can have a lot to do with the type of flour you are using so start slow. It is always easier to add more than ii is to drain the cauliflower although you can. If you did make it too thin just put the dipped florets in a colander and let the extra drain off a bit before putting on the baking sheet.  The first time I made this I actually added water. The batter was very thick and thinning it just a bit worked out better. This made it easy to get the coating into all the nooks and crannies.
Removed the dipped florets to the parchment paper being sure to keep some distance between them so they can crisp up.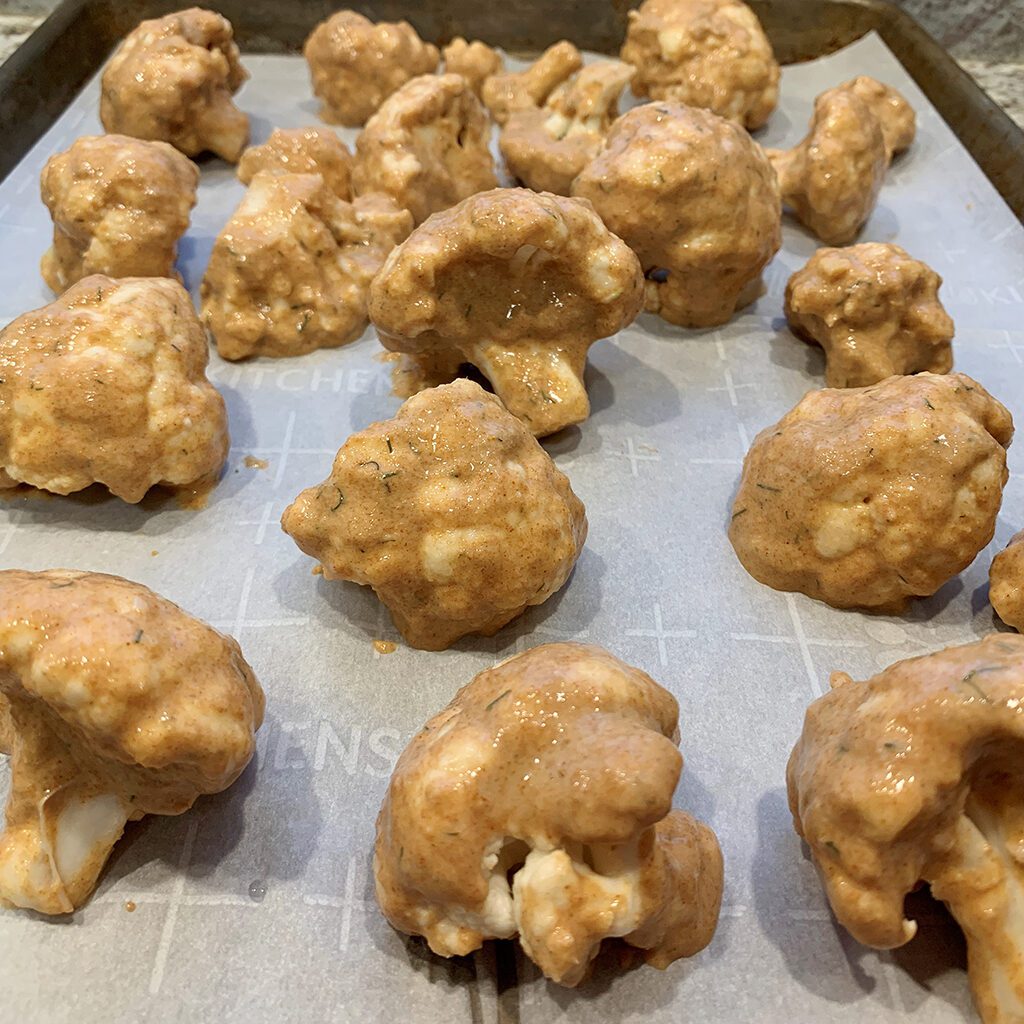 Time for the oven.
Pop those beauties into a 450 degree pre-heated oven and set the timer for 25 minutes. Check them half way through and flip if necessary. This will depend on how thick your coating was. Mine looked fine and were crisping on the parchment and on top so I chose not to flip. Once they have reached a  pretty golden brown remove them from the oven. Now gently sprinkle on your favorite buffalo sauce or flavoring sauce.
It would be a good time now to flip so you get the entire floret coated equally but try not to get too much liquid on the parchment or you will undo all the crisp you just worked so hard on. Once they are all coated put them back in the over for another 1o-15 minutes. When they are dry and crispy they are done and ready to be enjoyed. It is better to serve immediately because they can start to loose some crispiness over time.
Let the party begin.
Serve with sliced celery and your favorite dipping sauce. We used a homemade ranch but bleu cheese would be delish also. It's super easy to make your own blue cheese dip: greek yogurt, blue cheese crumbles, lemon juice and salt. Or if you prefer ranch dressing here is a super easy recipe.
Give these delicious Buffalo Cauliflower Bites a try and be sure to give it a rating below.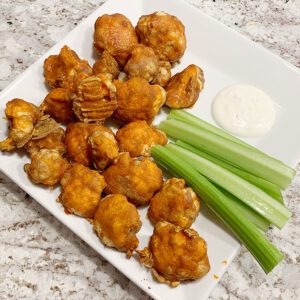 Buffalo Cauliflower Bites
These delicious and spicy little bites are great for sharing with friends at as party or potluck or just gobbling at home. They are a whole plant-based substitution to traditional Buffalo Chicken Wings and carry just as much heat and flavor. Serve with celery and dressing of choice.
Print
Pin
Ingredients
2/3

cup

whole wheat or grain flour

1

cup

water (more or less depending on consistency

1

tsp

paprika

½

tsp

garlic powder

1

tsp

dill weed

Cauliflower

1 small head
Instructions
Preheat oven to 450 degrees.

Put dry ingredients into a large bowl and slowly and the water mixing thoroughly as you go. Add more or less water depending on consistency.

Mix until you have the consistency of heavy pancake mix with no lumps and all ingredients are incorporated.

Carefully cut end off of cauliflower and working from the bottom slice off florets. You do not want them too small but if they are large you can carefully cut in half so you have a consistent size.

Add florets to flour mixture and stir until all the cauliflower is coated thickly.

Using tongs carefully place florets on parchment covered baking sheet. Make sure to space out the florets. This will allow them to crisp up in the over.

Bake for 20-25 minutes. Turn halfway to even out crispness.
Add Sauce
Remove baked florets and carefully baste with your favorite buffalo sauce or wing sauce.

Bake an additional 15 minutes. For maximum crispness, serve immediately.

Leftovers can be reheated and best done in the oven.
Your Notes
Nutrition
Rate the recipe!
If you like this recipe, please leave a good rating!
This helps other readers.
Tried this recipe?
Share with your friends